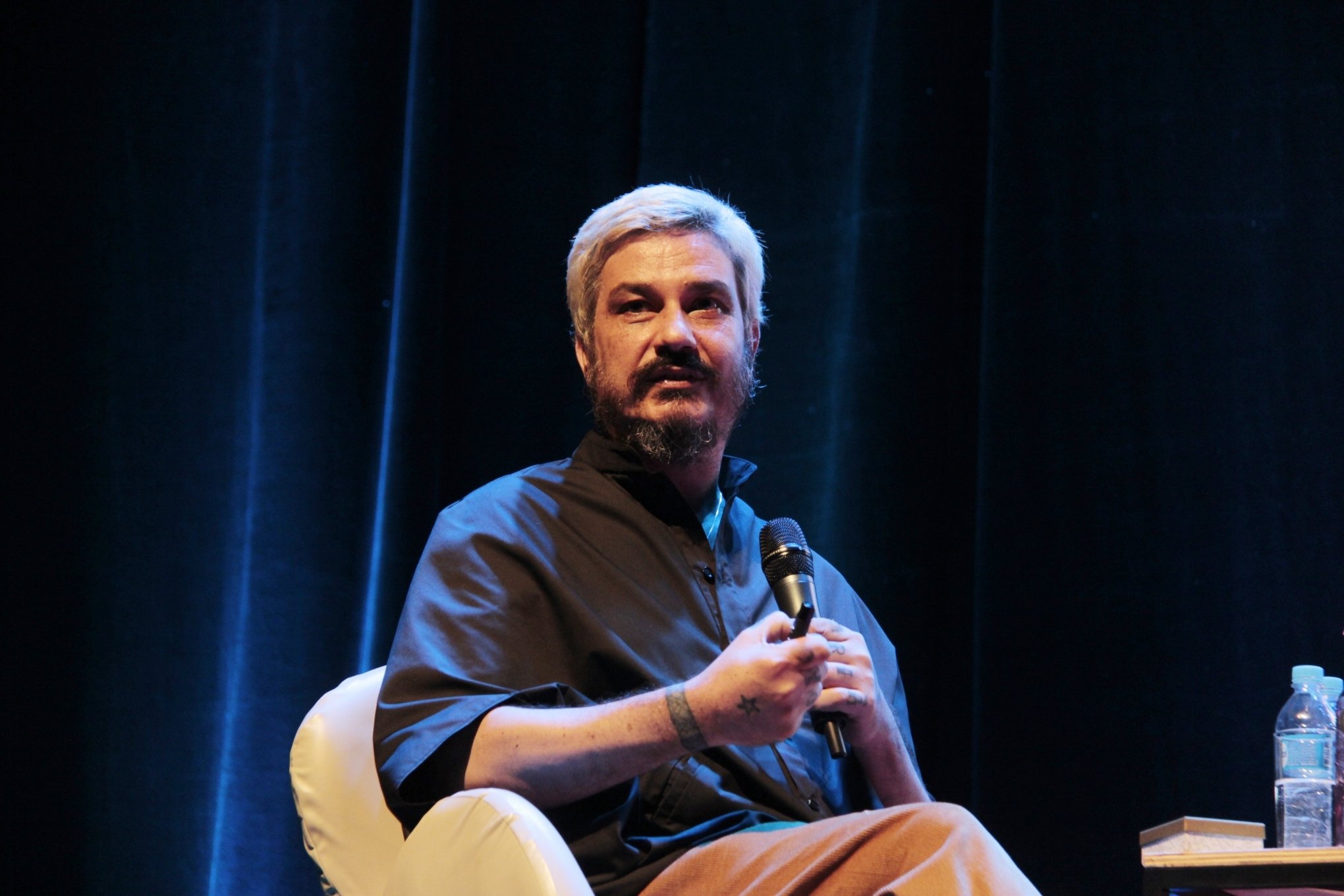 Taking his roots, established in the folklore of São Sebastião do Paraíso, in Minas Gerais, Brazil, and revealing his talent for the spotlight of fashionista habitat, João Pimenta has consolidated as one of the biggest names in Brazilian fashion. His nature is stamped by games of opposites involving concepts of poor and rich, masculine and feminine, sustained emblems since the beginnings of his trajectory in the fashion of São Paulo, is marked by presentations in Casa de Criadores and participations in Mercado Mundo Mix. The performance of João Pimenta, who paraded his first collection at São Paulo Fashion Week (Summer 2011) in June 2010, already drew the attention of the specialized critic for betting on counterpoints as tools to discuss the male niche.

Under his sui generis viewpoint, he provided men new possibilities in dressing, exalting belted clothes, biases, focus on the hips and other indelible characteristics of his criticism. Since 2003, he has begun to sign the own brand, with the aim of alerting the male audience about its power, freedom and necessity to innovate. In an exclusive interview for the Lançamentos magazine, the professional strips the adorable strangeness that has led his work to the top of the fashion in Brazil.
Check out the exclusive interview with João Pimenta
How were your confrontations until you took an aspect against the flow of the fashion?

João Pimenta - I had a serious problem of selfesteem at the beginning of this project, assuming that I should make fashion for fashion, because it belongs to an "elitist environment" and I come from another
environment. Cultural issues and cultural disabilities didn't make me feel safe to make fashion. Then, at an
event in Paris, I discovered when I saw a Galliano clothing (John Galliano, British stylist) that we had a
very similar thought, because a clothing he made had the idea very similar to mine, with the same machine, with the same finish. And so I started to question this in myself: why do I have this question of self-esteem if I also have a fashion vision?
At what moment did you realize that your roots exhibit your work?

João Pimenta - About thirty years ago, when I assumed the things that embarrassed me, what are my Brazilian history, the folklore of Minas, the religious thing of my family, the poor and rich question, don't have money to make a piece, male and female. All this has become the motto of my work. From that acceptance I became a more creative person. Until a moment came that I realized that when you are original, when you really put yourself, tell the true stories, people receive you in a better way.
What were your next steps?

João Pimenta - After I became more secure I started to approach several themes in my collections. I keep this until today. My job is to talk about counterpoints. I like to look at where no one is looking. The poor and rich, male and female are two counterpoints that to me are the pillars of the brand. We are always questioning reuse of materials, the looking at the countryside, at the field, at the religion, at the religion thing that has a very incredible aesthetic, at Brazil has a great quantity of things that can stimulate a fashion concept. I think a lot of people come here to do research and then after we copy it from them. My speech is inside this universe, that you need to believe in yourself, that you need to feel secure, that the deficiencies can be turned into weapons for you to work.
Is fashion culture?

João Pimenta - Fashion is culture. I don't think it is art. I think what differentiates fashion and art is that fashion is utilitarian. It has the power of you to rethink and imagine things. What the art can do with us, the fashion can do it, too. But the art you don't wear, don't take with you to the street. It is always static in a corner.

How to seek this originality?

João Pimenta - I think it's watching the movie of life itself. We are very connected in what the other is doing, thinking or how the other is acting. And we don't see ourselves, don't stop to watch ourselves. Analyzing how your day was, how you moved, how you cared about people. We see us in the other a lot and it makes us unsafe. When you begin to see your universe, your thinking, dealing with yourself, accepting you as you are, then you begin a process of having a style, of being trustful. I don't think that clothing gives anyone confidence. I don't think just because you are in a very expensive outfit you look amazing. You look amazing if you're happy, well, if you put your head on the pillow and sleep. When you have it, you can start playing with the fashion. A boy who is safe with himself, he will wear a skirt. If he is insecure, he will never wear it. All the fashion aspects that we want to move, all these signs are only possible when you believe in yourself.

Has your perception of the fashion industry changed over time?

João Pimenta - People who go to this fashion universe are very fond of an image, for example, of a beautiful, rich, tall, wonderful woman. And that makes they are just one more thinking fashion. I think that when you can see the niches, it's where you have the possibility to stand out. About ten years ago I had a store that was just female fashion and I noticed the boys trying to get something that was not so feminine, that could be used. Then I got it: the men's market is so incredible, because men consume in a very different way from women, they have purchasing power, and it has this quality issue. But stylists don't look at this market, the textile industry doesn't either. It's a market that is abandoned.

Did you stand out in that point?

João Pimenta - When I saw that this niche was important, I got a highlight, because I started to look at where nobody was looking. People have a fashion insight that is all very much the same, one character only. And it isn't. Everyone consumes clothing. For you to get a differential you have to understand these niches of possibilities and where there are people working, where there aren't, where there is language and where there isn't. Today I work with men's fashion, but I disfigure the men's fashion, because I mix the two already a long time. Since 1990 I have done this job of wanting to put a little more shape in men's clothing, which since the Industrial Revolution has turned into a square outfit, without silhouette, without color card, without stamping. It's a clothing to cover the body. I try to make a
distinctive fashion, to work shapes. I know that man has chest, waist and hip, just like the woman, but in other proportions. The man is not a square plaque as the male fashion industry produces.
How to survive in this universe?

João Pimenta - The stylist to be complete need to have a concept, but must know how to transform it. When I chose to do a conceptual work, I gained visibility. I can do several other jobs that aren't only exactly the product, the clothing. The conceptual parade, for example, opens the doors for others jobs, to design for other brands, to be part of other creative industries, to create space with art to do theater, dance. If I had made a trade brand since the beginning, maybe I haven't gained visibility. It's smart to look at the niches, because you will get highlight in the market. In my case, the masculine niche. I think people should think about it: I wonder if I will find a niche where I will stand out. I wonder if I look at a segment that no one is looking at isn't the best channel. I feel good knowing that on the catwalk is not the place to sell product, it's a place to sell my concept. The person who takes an interest in my product goes
to the store, finds a catalogue. Today I am much safer to have a conceptual job.