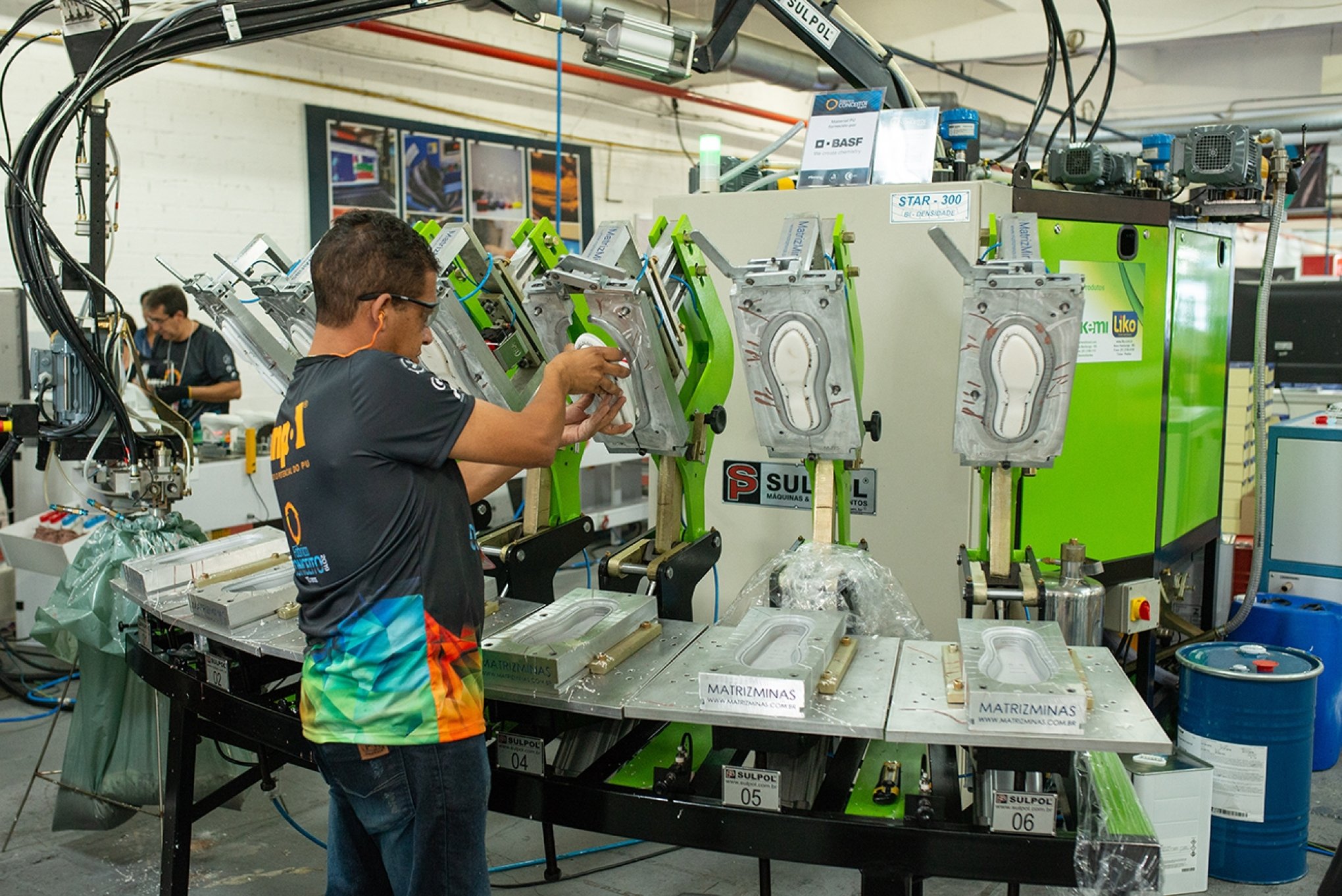 The Concept Factory is a project carried out by the Brazilian Institute for Leather, Footwear, and Artifact Technology (IBTec), Fenac and Coelho Assessoria Empresarial. The purpose of the action is to present to Fimec visitors the applicability of technological and logistic processes and products on display at Fimec, through real-time manufacturing of footwear. In a 1,100 m² space, this year's project will have record numbers - there will be six production lines, which will represent 17 shoe models, being 16 women's shoes and one men's.
In its 11th edition, the Concept Factory will have the companies Calçados Ramarim and Grupo Arezzo as partners. Escola do Calçado Senai (Senai Footwear School) will participate with a production line of models developed by the students of the professional training program of footwear technicians. Paulo Model, who is responsible for the coordination of the factory and manager of the technical consultancy area of IBTeC, says that this will be the most complex edition of the project. "With over 90 companies participating, the Concept Factory 2020 will have a total of 50 collaborators and 40 Senai students, who will be responsible for the production of around 3,500 pairs in the three days of the trade show. The project will use 132 machines and pieces of equipment", he says.
The Executive Officer of Coelho Assessoria Empresarial, Luis José Coelho, assesses the evolution of the project. "The Concept Factory has been consolidated as one of the main attractions of the trade show. In this edition, our number are record and they show the support that the entire footwear sector provides to this project, which is the main on in technology and innovation in the sector", says Coelho. The Executive Director of IBTec, Paulo Griebeler, explains what the visitors can expect at this edition. "The 11th Concept Factory features innovation, technology and sustainability, everything that the sector has in terms of processes, products, inputs for the leather and footwear industry, he says.
Innovation and sustainability
Among the innovations of produced models, there is a tennis shoe that is made by two assembly processes, stringed and bagged in the same model, ensuring gains in time and savings in the use of materials, which is directly reflected in the final cost of the product. Sustainability also stands out in the production line of a pump model with a polyurethane upper and ecological TPU sole made from castor oil. Another novelty presented will be an alternative transport system to the treadmill. On the assembly rail, the upper line is independent of the lower line and transports at different speeds, allowing different models to be made at the same time, without losing productivity.