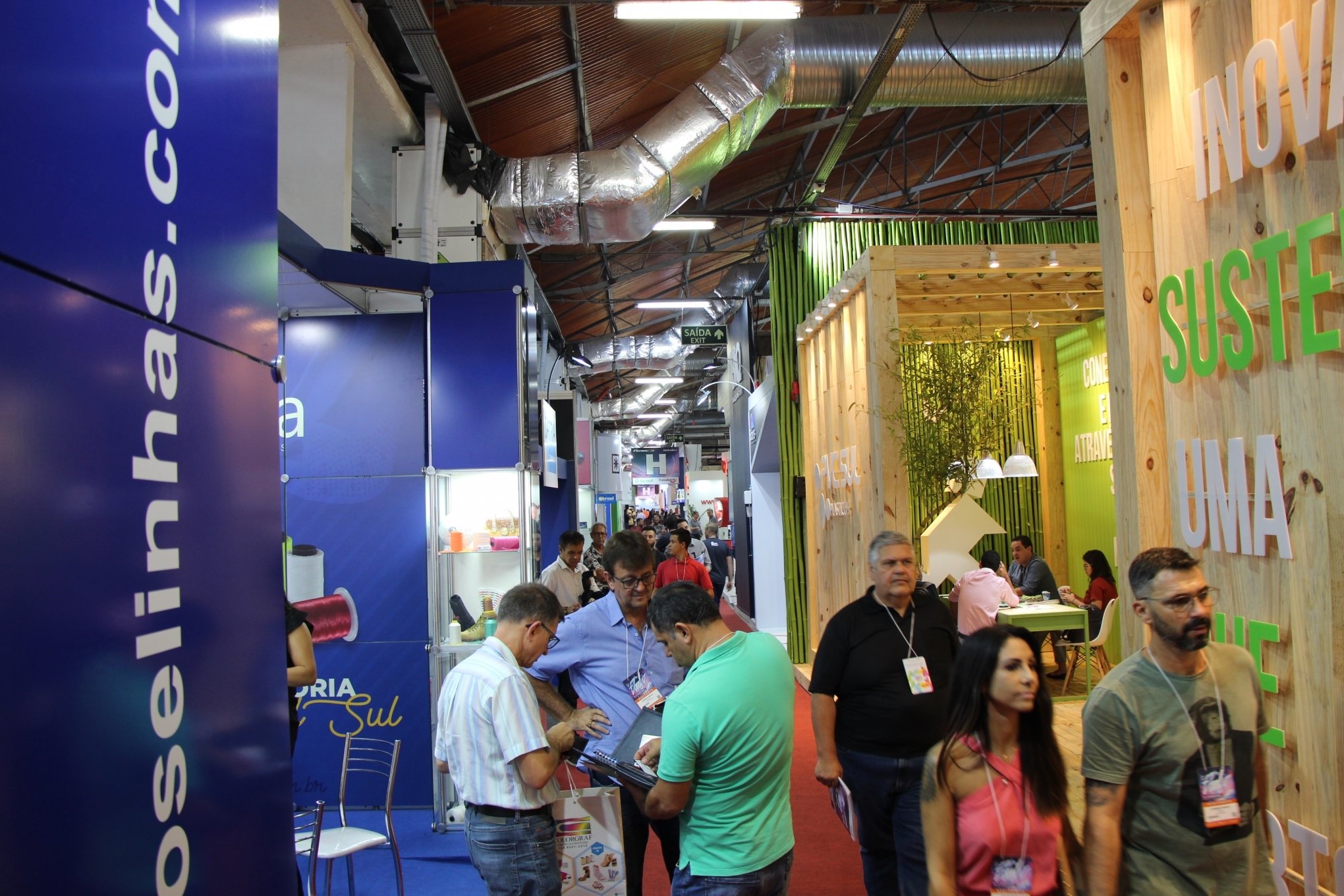 The three days of the 44th Fimec (International Fair of Leather, Chemicals, Components, Machinery and Equipment for Footwear and Tanneries) were defined by good business opportunities and a qualified audience. According to Fenac CEO, Márcio Jung, the success of this edition is evident. For Marcio Jung, Fenac's CEO, the fair received visitors who were really interested in closing business deals. "While talking to exhibitors and going through the corridors, I noticed that this year's visitors are people who really have the decision-making power in their company", highlights Jung, who has been participating in the footwear segment for 35 years.
For Jung, this edition of the fair was full of business opportunities. "Fimec 2020 is a fair that we have been fighting for in the past three years: full stands and empty aisles, a signal that indicates a professional fair, with business deals happening all the time," he points out. "I am very grateful to those who believed in this process and that we could organize a safe fair. According to the conditions that existed, I could not imagine such a huge success for Fimec 2020", he celebrates.
Fimec 2020 brought together over 500 exhibitors that presented the latest developments in leather, chemicals, components, machinery, equipment and technologies for footwear and tanneries. Among exhibitors, the prospect was that the segment would regain its optimism. Debuting at the fair, Bettech - a new company of the InBetta group - is betting on Fimec as a platform to introduce the company to industry professionals. "Fimec was very important for us. It was our first fair in which we presented Bettech to the market, and we had the opportunity to show foams, abrasives and other products that we are developing to the segment", assesses Silvia Rode, commercial manager at InBetta. "The fair exceeded our expectations, as we closed many deals during those three days and we also established several channels and contacts for after the fair. We already have confirmed our participation in Fimec 2021", says Silvia.
For Amazonas, the fair is also bringing good returns. "This edition of Fimec is being excellent for us; it was a triumphant return from Amazonas, much better than we expected. Our stand location at the fair is excellent, with an outstanding number of visitors, not only from customers in Brazil, but from all over Latin America", says Saulo Pucci, Shareholder Director at Amazonas. "For us, Fimec is the largest showcase in the footwear components segment in the world. Whoever operates in this segment have to be here", assesses Pucci, explaining that this year's edition exceeded all expectations. "We closed several business deals and partnerships with visitors from South America, in addition resuming growth with regard to the domestic market. Fimec is a mandatory and strategic fair for us", he points out.

Visitors pleased
The atmosphere was also reflected optimism among visitors. Samir Nakad, from Sameka Modas, located in Birigui/SP, visited Fimec in search of machines for his company. "I have already negotiated two machines at a stand and right now I was negotiating another one with another company. I'm finding everything I'm looking for here at the fair", celebrated Nakad. "Fimec is essential for the segment, as it helps us to be at the forefront in terms of footwear manufacturing, since it has all the best options available in the segment", he assessed. "This year, I notice that there is a feeling of optimism, both among exhibitors and visitors: the segment is more optimistic", he concludes.
The fair was also visited by a group of professionals from Dray, a company located in Saudades/SC. "We took a bus, a group of 18 people, to check out all the latest trends at the fair," states Jair Lange, the company's production manager, which produces 12,000 pairs of sports shoes a day, in addition to clothing and sports items, such as leggings, socks, gloves and balls. "We visited the fair since founded the company, which has been in operation for 26 years, and every year our team boards a bus to find out what's new, as it is essential that they participate in this moment", he says, adding that this year they have already managed to close three business deals with exhibitors at the fair.
Fenac had an extraordinary action plan for the event
Given the global situation regarding the new coronavirus, Fenac, in conjunction with the Novo Hamburgo Health Department, the Health Surveillance Office and Infectious Disease Physician Renato Cassol (with experience in infection control working at the Conceição and Santa Casa Hospitals and acting as an consultant for the event), has created an extraordinary plan for the fair, aiming at the well-being of all collaborators, visitors and exhibitors, as well as at the well-being of the city's population.
This plan included the following initiatives: adjustments to the existing first-aid stations within the pavilions; distribution of hand sanitizers to the entire audience, in addition to installing sanitizer dispensers throughout the pavilions; increase in the number of our cleaning staff, which was trained by the Health Surveillance Office; and thorough sanitization of handrails, door handles, tables and bathrooms. Furthermore, Fimec 2020 also has a container installed in front of the fair's main entrance. "In this container, all the people who traveled overseas or to the countries on the list of countries monitored by the Federal Government in the last 14 days were monitored. If these people do not present any symptoms, they can visit the fair normally. If someone presents any symptoms, they receive the necessary information and are subsequently referred to the Municipal Health Department", said Marcio Jung, Chief Executive Officer of Fenac.
The 2021 edition: The 45th edition of Fimec (International Fair of Leather, Chemicals, Components and Equipment for Footwear and Tanneries), is set for March 09, 10 and 11, from 1 PM to 8 PM, in the Fenac Pavilions, in Novo Hamburgo, Rio Grande do Sul (Brazil).